The vineyards
We cultivate our grapes both with the traditional sapling system and with the espalier system, using only natural fertilizers and without the use of pesticides.
The harvest takes place by hand without any help from machinery that could damage the quality of the grapes.
We cultivate two types of lands: Light lands composed of limestone and a part of clay which gives it minerality and sapidity; Dark lands composed of limestone and organic substances that give balance and fruity notes.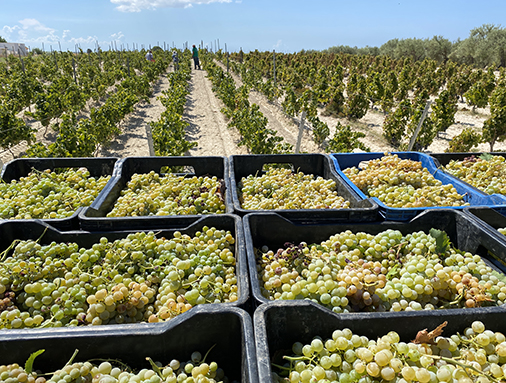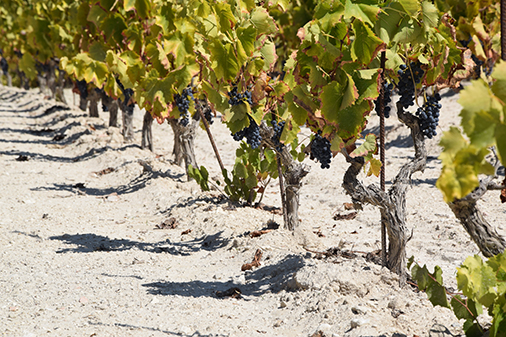 Nero d'Avola
The Nero d'Avola vine, King of our lands, is harvested from mid-September onwards and owes its fame to the cultivations of Pachino and Noto.
In our vineyards, which vary in age from 5 to 30 years, cultivation still takes place today with the Alberello technique.
Moscato di Noto
Moscato di Noto is the only native white grape variety of our territories and is harvested towards the end of August and in the first days of September.
An aromatic vine, whose cultivation has only recently been re-evaluated, it can be used both for the production of dry and dessert wines.
Frappato/Nero Capitano
Frappato is a historic Sicilian red grape variety that is grown by us as a sapling and is suitable for making young, ready-to-drink wines. The original Frappato/Nero Capitano of the area is almost completely extinct, so we have grafted a few thousand plants with the intention of continuing to increase their number in the coming years.
Grillo
Grillo is a historic Sicilian white grape variety that has adapted well to the soil and particularly hot climate of the lands of Noto.
This vine allows you to make dry, fresh white wines with citrus notes.
---