Our wines
We aim to create wines that reflect the natural characteristics of the territory, wines with a distinct personality, away from fads.
Our work is aimed at getting perfectly ripe and healthy grapes, because we believe that wine is primarily made in the vineyard and not with alterations and the methods used in the winery.
Our work in the winery aims to respect the character of the wine throughout the whole transformation process. For this reason, we implement spontaneous fermentation without adding selected yeasts to the must and we do not use wooden wine barrels when refining the wine to avoid altering the taste, which for us must maintain the identity of the variety and the territory that it represents.
The only intervention is the addition of a minimal quantity of sulphur dioxide during bottling process, in order to guarantee better preservation.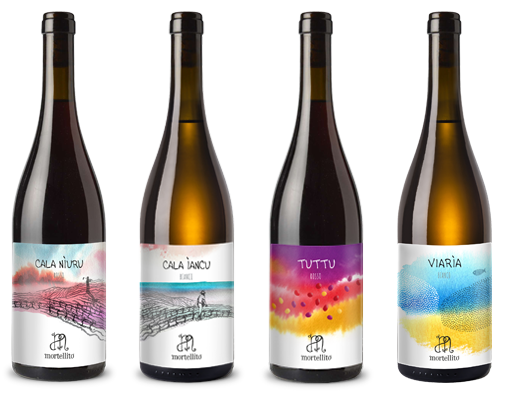 CALA NIURU
TECHNICAL DATA
Region: Sicily
Production area: Noto
Classification: Red wine
Variety: Frappato/Nero d'Avola
Alc vol: 14%
Soil Composition: Medium texture Chalky
Age of vines: 25 years
Training method: Head/spur bush (7,000 vines per hectare)
Height above sea level: 40 mt
Yield per hectare: 60 quintals
Agriculture: Organic, no herbicides, no treatments with chemical and/or synthetic fertilizers, pesticide treatments limited to low doses of copper and sulphur.
Wine-making technique: 15 days of maceration with the skins, then drawn off and kept at room temperature, the fermentation develops naturally without inoculation of wine yeast.
Aging: Containers of stainless steel
Sulphur dioxide added before bottling aimed at 30/40 mg/l
---
CALA IANCU
TECHNICAL DATA
Region: Sicily
Production area: Noto
Classification: White wine
Variety: Grillo 90% / Catarratto 10%
Alc vol: 13.3%
Soil composition: Medium texture Chalky
Age of vines: 5 years
Training method: Head/spur bush (7,000 vines per hectare)
Height above sea level: 40 mt
Yield per hectare: 70 quintals
Agriculture: Organic, no herbicides, no treatments with chemical and/or synthetic fertilizers, pesticide treatments limited to low doses of copper and sulphur.
Wine making technique: 12 hours maceration with the skins, then drawn off and kept at room temperature, the fermentation develops naturally without inoculation of wine yeast.
Aging: Containers of stainless steel
Sulphur dioxide added before bottling aimed at 30/40 mg/l
---
TUTTU
TECHNICAL DATA
Region: Sicily
Production area: Noto
Classification: IGP Terre Siciliane Rosso
Variety: Nero d'Avola 75% / Mix White and Red local Variety 25%
Alc vol: 13%/14%
Soil composition: Medium texture Chalky
Age of vines: 10 years
Training method: Head/spur bush (7,000 vines per hectare)
Height above sea level: 40 mt
Yield per hectare: 60 quintals
Agriculture: Organic, no herbicides, no treatments with chemical and/or synthetic fertilizers, pesticide treatments limited to low doses of copper and sulphur.
Wine making technique: 8 days maceration with the skins, then drawn off and kept at room temperature, the fermentation develops naturally without inoculation of wine yeast.
Aging: Containers of stainless steel
Sulphur dioxide added before bottling aimed at 30/40 mg/l
---
VIARIA
TECHNICAL DATA
Region: Sicily
Production area: Noto
Classification: IGP Sicilian lands white Moscato
Variety: Moscato di noto
Alc vol: 11,5%/12,5%
Soil composition: Medium texture Chalky
Age of vines: 5 years
Training method: Head/spur bush (7,000 vines per hectare)
Height above sea level: 40 mt
Yield per hectare: 60 quintals
Agriculture: Organic, no herbicides, no treatments with chemical and/or synthetic fertilizers, pesticide treatments limited to low doses of copper and sulphur.
Wine making technique: 2 days maceration with the skins, then drawn off and kept at room temperature, the fermentation develops naturally without inoculation of wine yeast.
Aging: Containers of stainless steel
Sulphur dioxide added before bottling aimed at 30/40 mg/l
---